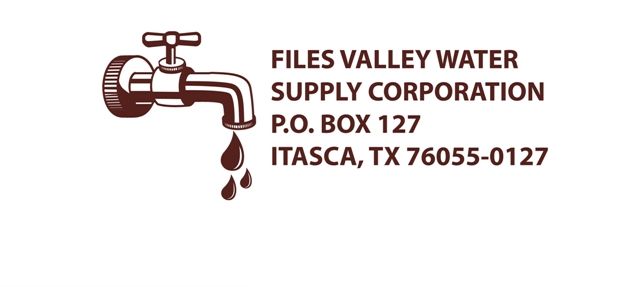 Files Valley Water Supply
Files Valley Water Supply Corporation serves Hill and Ellis Counties in North Central Texas. Quality Water is obtained from the Lake Aquilla reservoir. FVWSC maintains over two hundred eighty five miles of line and serves over eight hundred fifty meters.
NOTICE OF MONTHLY MEETING FOR DECEMBER 2020
Steps to Follow when you have an outage or leak:
Check to see if your neighbors have water. This will help to isolate the problem.

Have your water bill available, or be able to provide the dispatcher with the name and number for the affected account

Call the main office at 1.800.338.6425. 24 hours a day, 7 days a week.
2019 Consumer Confidence Report