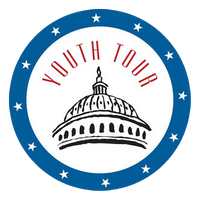 Youth Tour
High School Juniors and Seniors
Win a Trip to Washington, D.C.
HILCO Electric Cooperative will sponsor two high school students on an all-expense-paid trip to Washington, D.C.
Any high school junior or senior student in HILCO's service area will be eligible to enter the contest. The winners of the contest will receive an all-expense paid trip to Washington, D.C., June 16-23, 2024. The winners will join approximately 1,500 other electric cooperative winners from 42 states for a week of education and fun. The students will get a firsthand look at our government in action as they visit their own congressmen and senators. The fully chaperoned trip will include a tour of Washington, D.C., visits to congressmen on Capitol Hill, visits to national landmarks, monuments, museums, and many other historic points of interests.
Youth Tour Contest Rules - Deadline January 12, 2024 at 4p.m.
Student must be successfully completing his or her junior or senior year in May 2024, and live in and attend school in HILCO's service area.
Complete the HILCO Electric Cooperative application.
Submit an essay of approximately 500 words on the subject of "What it means to be an American."
Submit application and essay in person at
115 E. Main St., Itasca,
or by mail to HILCO Electric Cooperative,
ATTN: Youth Tour,
P.O. Box 127,
Itasca, TX 76055.