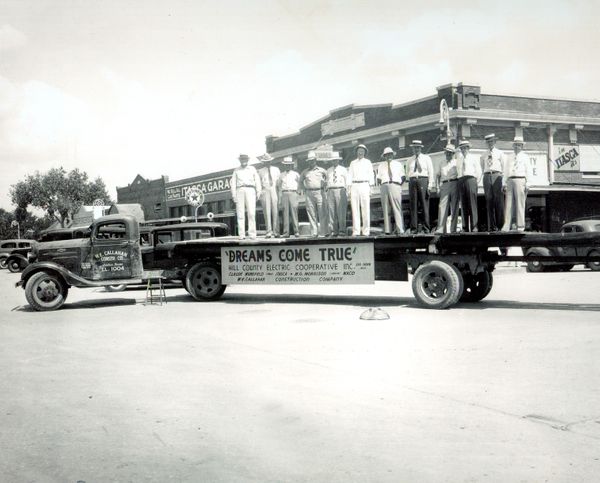 Connecting YOU!
The history of electric cooperatives can be traced back to the Great Depression. In the early 1930s, only about 10% of farms in the United States had electricity. This was also true for the rural areas of Texas. More populated, urban areas enjoyed the convenience and luxury of electricity while the people living in rural areas still cooked on wood stoves, washed clothes by hand, put ice in a box to keep food from spoiling, and read books by candlelight. This was due in part to the fact that it was not profitable for private, investor-owned, utilities to build and operate electrical systems in rural areas.
In 1935, President Franklin D. Roosevelt signed an executive order creating the Rural Electrification Administration (REA). The REA was a government agency that was tasked with providing loans to electric utilities. These loans were to be used to build electrical systems and to provide electricity to these underserved rural areas.
Following the creation of this new program, it became evident to the REA officials that the established investor-owned utilities were not interested in serving these sparely populated rural areas. The availability of federal loan funds did not entice meaningful investment by these utility companies. However, loan applications from cooperatives formed by farmers and ranchers poured in. Electric cooperatives would be the entities to make rural electrification a reality. The REA program was a success, and the quality of life for those living in rural areas was forever changed. Shortly after the end of World War II, over 90% of farms in the United States had electricity.
The founders of HILCO Electric Cooperative (formally Hill County Electric Cooperative) recognized the opportunity to use this new program to serve the people in their area. Using an initial loan of $150,000, HILCO began building the Cooperative from the ground up. The first line was energized and served HILCO's first member on December 21, 1936. The Cooperative was officially incorporated on May 4, 1937, by its first General Manager, Earl D. H. Farrow, and a group of local farmers who served as the original board members. These visionaries had a dream and the tenacity to bring electricity to rural areas of north central Texas. Since that time, HILCO has grown within its service area of Hill, Johnson, McLennan, Ellis, and Dallas Counties with over 3,000 miles of overhead and underground distribution lines.
Electric cooperatives are owned by and operated for the benefit of its members. These unique entities strive to provide a reliable and affordable source of electricity to the communities they serve. Today, there are over 900 electric cooperatives in the United States, serving over 42 million people.
There have been many changes over the years, but the original goals and values of electric cooperatives have remained the same.
The Seven Cooperative Principles is what makes cooperatives different.
1. Voluntary and Open Membership
Cooperatives are voluntary organizations, open to all persons able to use their services and willing to accept the responsibilities of membership, without gender, social, racial, political, or religious discrimination.
2. Democratic Member Control
Cooperatives are democratic organizations controlled by their members, who actively participate in setting policies and making decisions. The elected representatives are accountable to the membership. In primary cooperatives, members have equal voting rights (one member, one vote) and cooperatives at other levels are organized in a democratic manner.
3. Members' Economic Participation
Members contribute equitably to, and democratically control, the capital of their cooperative. At least part of that capital is usually the common property of the cooperative. Members usually receive limited compensation, if any, on capital subscribed as a condition of membership. Members allocate surpluses for any or all of the following purposes: developing the cooperative, possibly by setting up reserves, part of which at least would be indivisible; benefitting members in proportion to their transactions with the cooperative; and supporting other activities approved by the membership.
4. Autonomy and Independence
Cooperatives are autonomous, self-help organizations controlled by their members. If they enter into agreements with other organizations, including governments, or raise capital from external sources, they do so on terms that ensure democratic control by their members and maintain their cooperative autonomy.
5. Education, Training, and Information
Cooperatives provide education and training for their members, elected representatives, managers, and employees so they can contribute effectively to the development of their cooperatives. They inform the general public, particularly young people and opinion leaders, about the nature and benefits of cooperation.
6. Cooperation Among Cooperatives
Cooperatives serve their members most effectively and strengthen the cooperative movement by working together through local, national, regional, and international structures.
7. Concern for Community
While focusing on member needs, cooperatives work for the sustainable development of their communities through policies accepted by their members.
Dreams Come True
The 75 Year History of HILCO Electric Cooperative, Inc.
(1937-2012)
By Brian K. Moreland
At the turn of the 20th Century, a man by the name of Earl D.H. Farrow had a dream to bring power to the rural people of Central Texas. Against tremendous odds, he started Hill County Electric Cooperative from the ground up and built miles and miles of power lines to farm houses in five counties. Dreams Come True is the illustrated story of how Farrow's vision grew into the large electric power co-op that HILCO is 75 years later. In this fascinating historical book, discover a tapestry of personal stories and humorous adventures as one man inspires others to build a dream that delivers power to its many members.
Available for purchase on Amazon and Barnes & Noble